Post by Nuke on Mar 7, 2018 14:04:20 GMT -6
Chapter 7
Episode 250
To Accept or not?
This episode was made by Nuke
Music Used:
N/A
Will this episode appear in the re-boot?( ) Will appear as is with little to no change, but likely graphical and other enhancements.( ) Will appear in the re-boot, but with heavy changes.(X) Will possibly appear in the re-boot, but with heavy changes.( ) Will be entirely scrapped and won't appear in the re-boot.
Some warriors believe that words aren't the best way to convey themselves to another. Instead, they prefer to express themselves through the heat of combat with other warriors, especially skilled ones. It's not as strange as you might think. You can actually learn quite a bit about another individual by sparring with them. Something of which certain videogame characters like Ike from Fire Emblem Path of Radiance and Radiant Dawn like to do for this very reason. (In a similar boat, the Black Knight shows shades of this too) Most interestingly enough is that this carries over into real life too, through all the various sports events out there...
and even videogames!
Ever watch an EVO event where two well known famous players duke it out in a fighting game at the event? It's kind of like that. I'm not very much into PvP and sparring myself in real life. Yet I do firmly believe that warriors who are looking to improve themselves shouldn't neglect what sparring can do for them.
As for the quip space, this episode was around the time I was looking for an MMO to finally play around with a bit for the sake of having a co-op focused game for me and my friends to play. (Some time AFTER Guild Wars)Rusty Hearts was the first thing I tried. I hear the game changed
DRASTICALLY
since the last time I played it, but I haven't bothered to even look at the game for years now. Actually there's a bit of a story here and how it leads into me, Cybie, and GEARSNINJA now playing Final Fantasy XIV. It all started with Rusty Hearts, in which I tried to convince Cybie, GEARSNINJA, and a few other friends to pick up the game and play it with me. I only succeeded in getting GEARSNINJA (who never takes much effort to convince mind you) and Bad Mr. Frosty to try the game with me. After a few months, I myself dropped the game when both of the said friends I convinced to try the game with me didn't play it a whole lot. This lead to me getting into the first incarnation of Dungeon Fighter Online, and I succeded in getting both GEARSNINJA and Cybie to join this one. GEARSNINJA though could only play the game while he was over at my house at the time, apparently lacking a computer back then to play Dungeon Fighter Online with me and Cybie. So me and Cybie mostly forged on by ourselves as two particular characters. (Me as an Elementist Mage and Cybie as an Asura) Interestingly enough, Cybie got more into Dungeon Fighter Online then I did, to the point of where he had pushed a second character to level cap by himself. Personally, I had picked up this game as a means of me, Cybie, and GEARSNINJA as something to play together, so I thought it strange that Cybie insisted on moving on by himself and wouldn't play any other game aside from Dungeon Fighter Online back then. The lesson I took from it was that Cybie is even more of a completionist then I am. (Could have been something else though. I dunno) And I thought I was a completionist...
However, that wouldn't last either. This time, it was the game itself getting shut down that caused us to abandon Dungeon Fighter Online. For whatever reason at the time, the company that WAS hosting Dungeon Fighter Online at the time had decided to shut down DFO. Naturally, this caused the majority of the fanbase to go into an uproar over how they'll never get to play this game again. With the game shutting down, me, Cybie, and GEARSNINJA decided to put DFO behind us. I've still got an old picture I took from all those years back though that features my character list from the old DFO release:
This isn't even all of them...
After DFO shut down, it was back to mainly single player titles for me and Cybie, with the occasional game that has multiplayer to it. I think me, Cybie, and GEARSNINA all really got into Mario Kart Wii and Super Smash Bros Brawl around this time. It was also around this time that I started looking for other potential MMO's we could get in to. This led me to eventually coming across Vindictus and Elsword. Vindictus, to this date IMO, still has the best physics engine I've seen in any free-to-play MMO. And the combat system is pretty fun too. Elsword was more closer to what I was looking for in terms of a DFO replacement, but as I played a fair bit of it, I honestly felt like something was missing from it. Maybe I was still trying to get over the loss of all my progress in DFO at the time. Not helped by the fact that I could only convince GEARSNINJA to pick up and play Elsword, while Cybie showed no interest in it. It's possible Cybie just didn't want to get in to another MMO after DFO. I can't say I blame that line of thinking. After looking at how much free time I had for other things when I stopped playing DFO, including time to work on the old sprite comic, I too eventually decided to toss MMO's aside... for awhile anyway.
... then GEARSNINJA pulls a fast one on me and Cybie by mentioning that he's interested in getting Final Fantasy XIV. When talking about it at one point on the phone, I mentioned that it's a "Pay to play" subcription type game and that any time we spend NOT playing the game is basically money wasted. He pulls out the fast one moment here by then suddenly mentioning that
he already bought the game.
Cue me facepalming myself at GEARSNINJA's usual tendency to just suddenly buy any videogame that he even has ANY remote interest in without putting much thought in to it. So I then cave in and pick up the game myself. And not too long after that, Cybie picks up the game as well, being a fan of the Final Fantasy series as well. Taking notes from DFO, I swore to keep up with Cybie this time, which was far easier to do in this game because you can play as all jobs on a single character in FFXIV, unlike in all the other MMO's I played. (Which led to the amusing story of how my main character is a female Miqo'te, A.K.A, catgirl, instead of a male Hyru, due to my experiences with previous MMO's) Over time, it didn't take long for me and Cybie to leave GEARSNINJA in the dust, so to speak. It was around this time that I finally noticed how much of a game jumper GEARSNINJA truly is. (His game libary for the PS4 alone is easily 3X bigger then mine, but he hasn't even finished over half of those said games) Also over time, me and Cybie just opted to always make sure that at least the two of us are always present in endgame duty roulette runs,
especially
after seeing how some of the playerbase in FFXIV plays... (See the "Tales from the Duty Finder: Some make you laugh. Some make you cry. Lets vent!" thread on the official FFXIV forum)
To this day, me, Cybie, and GEARSNINJA are all still playing Final Fantasy XIV. Mostly on the account that it's
no where near as grindy
as previous MMO's we've played. (See Guild Wars and, one of the biggest offenders, Dungeon Fighter Online) Despite being an MMO, we still get a fair amount of time to do other things after we've handled at least most of the stuff we wanted to handle for weeklies in FFXIV. That said, it's still an MMO, and the grind aspect is there. It's just not as horrible as other MMO's. On the topic of MMO's, somewhere during the time of which we got into FFXIV, the people behind DFO saw fit to revive DFO via different hosting and completely re-made the game while they were at it. I got curious about it and checked it out. It WAS different. The sprites and combat were more or less the same, but everything else about the game had changed. I hardly recognized it even. I didn't stick around, not wanting to get back into DFO now that me, Cybie, and GEARSNINJA are focused on FFXIV, but it's nice to see that DFO is back in action.
Speaking of old games being brought back, I can't believe it escaped my notice until recently, but Seven Kingdoms II: The Fryhtan Wars was brought back via an HD Remaster re-release for Steam: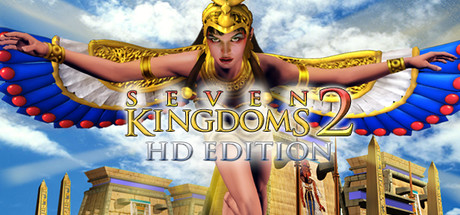 I played the HELL out of this along with Cybie back during the early year 1999 days. To this date, I've still got the old Seven Kingdoms II disc I bought so long ago, but I can't seem to get it to run on my PC anymore. Possibly on the account of it being so old. With that in mind, I may have to look into buying the HD remaster of Seven Kingdoms II on Steam (for a measly $10!). I view Seven Kingdoms II as the RTS version of games like Mario Kart and Super Smash Bros. The game comes with
amazing
re-playability. For how short a single game session of Seven Kingdoms II can be, the fact that you can customize matches for the next round and mix things up further by playing a different species of humans (or even fryhtans) made this game last for a hell of a long time for me and Cybie. If the HD remaster version comes with online play, me and Cybie could put on those nostaliga rose-tinted glasses and play a few rounds of the HD remaster of Seven Kingdoms II. Best review comment I read on Steam for the game was as follows:
"I remember this game all to well. Played the heck out of it. One of the most fun things for me to do in the game was to create an army of spies to send out to infiltrate enemy human kingdoms (and even some fryhtans) and then, just before declaring war on a kingdom, order all my spies to suddenly switch to my side and watch as half of the kingdom's forces turn against them. Those were the days."